Read More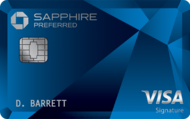 Chase Sapphire Preferred® Card
The Chase Sapphire Preferred offers an unusual amount of value for the price. A good pick for both frequent flyers and occasional travelers, the card not only has a solid rewards program and a mammoth sign-up bonus, but it also includes some of the most generous travel insurance benefits you'll find for a card with an annual fee of less than $100.
View More >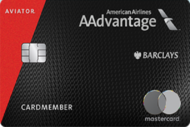 AAdvantage® Aviator™ Red World Elite Mastercard®
The AAdvantage® Aviator™ Red World Elite Mastercard® replaced the US Airways Dividend Miles® Mastercard®, in response to the merger of American Airlines with US Airways. If you're a frequent AA flyer this card could be a valuable addition to your wallet, providing nice benefits like Companion Certificates, free checked bags and preferred boarding privileges.
View More >
With the help of the top travel rewards cards from our partners, you can travel better and less expensively and not have to jump through dozens of hoops to make it happen. Whether you're looking for the best travel rewards credit card, an airline rewards card or are more focused on the best hotel rewards cards, there are options out there that will reward you for your everyday purchases...
Read More

Related Suggestions
Editing method and disclaimer
All the credit cards recommended by CardsPro come from our editorial team to organize and summarize through the real feedback of users on the Internet and the evaluation results of other professionals. We do not charge any fees from the recommended credit card issuers, we do our best to ensure the validity of the recommendations, but it does not ensure that we fully meet your needs and the accuracy of the information. When you make a decision with reference to the credit card information recommended on this website, the information of the credit card issuer shall prevail, and we declare that we will not bear any responsibility and consequences.