Read More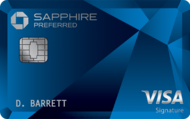 Chase Sapphire Preferred® Card
The Chase Sapphire Preferred offers an unusual amount of value for the price. A good pick for both frequent flyers and occasional travelers, the card not only has a solid rewards program and a mammoth sign-up bonus, but it also includes some of the most generous travel insurance benefits you'll find for a card with an annual fee of less than $100.
View More >
Related Suggestions
For many people, modern life requires a constant flow of gas and groceries, and so you may want a credit card that's good for both. The Blue Cash Preferred® Card from American Express (Review) fits the bill quite well, offering a lot of cash back at U.S. supermarkets and a competitive rate at U.S. gas stations too.
Read More

Editing method and disclaimer
All the credit cards recommended by CardsPro come from our editorial team to organize and summarize through the real feedback of users on the Internet and the evaluation results of other professionals. We do not charge any fees from the recommended credit card issuers, we do our best to ensure the validity of the recommendations, but it does not ensure that we fully meet your needs and the accuracy of the information. When you make a decision with reference to the credit card information recommended on this website, the information of the credit card issuer shall prevail, and we declare that we will not bear any responsibility and consequences.