Read More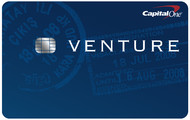 Capital One® Venture® Rewards Credit Card
The world of points and miles is nothing if not complex, full of acronyms and abbreviations that can confuse even the most experienced users. That's why a card like the Capital One® Venture® Rewards Credit Card can be a breath of fresh air for its simplicity if you use the purchase eraser feature and redeem your miles against the cost of most travel expenses charged to the card. On the other hand, if you enjoy the thrill of finding and booking a high-value premium-cabin award, the Venture Rewards card offers the ability to transfer your miles to 15 airline partners. With a 2:1.5 transfer ratio for 12 partners and a 2:1 ratio for the other three, you can think of the Venture Rewards card as earning 2% cashback or 1-1.5 airline miles per dollar, whichever gives you more value.
View More >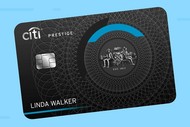 Citi Prestlge® Card
Frequent travelers have had a long-lasting love affair with the Citi Prestige® Card (Review). This card offer is unique for its fourth night free on hotel stays of four nights or more, a valuable perk that could help you save hundreds or even thousands of dollars per year, if you stay at high-end properties. The Prestige used to be a powerhouse because you could use that benefit as often as you wanted, but now it's capped at two uses per year. This new limitation is a bit of a downer, but most people shouldn't mind too much because Citi stated that the average cardholder didn't use that perk more than twice per year anyway.
View More >
Related Suggestions
The Citi Prestige® Card (Review) has an excellent rewards program for anyone who tends to stay with different hotel brands, with 3X points for every stay (plus other handy categories for travel). But the best part? You'll get your fourth night free on hotel bookings, up to twice per year, when you book with ThankYou.com. Plan to use those on a nice vacation, at a fancy hotel or resort, and they could easily be worth over $1K per year. There's also solid airport lounge access through Priority Pass, and a travel credit to help offset the annual fee.
Read More

Editing method and disclaimer
All the credit cards recommended by CardsPro come from our editorial team to organize and summarize through the real feedback of users on the Internet and the evaluation results of other professionals. We do not charge any fees from the recommended credit card issuers, we do our best to ensure the validity of the recommendations, but it does not ensure that we fully meet your needs and the accuracy of the information. When you make a decision with reference to the credit card information recommended on this website, the information of the credit card issuer shall prevail, and we declare that we will not bear any responsibility and consequences.