Citi® Double Cash Card
From good To exceptional ( Credit Recommended 670-850 )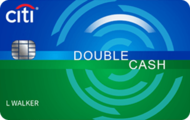 The Citi® Double Cash Card is a no-annual-fee favorite. With a flat cashback rate on all purchases and a bonus amount added as you pay them off, you'll find simple and strong rewards. Citibank occasionally offers an intro APR on balance transfers. When it does, you'll typically find an impressive promotion.
Read More

Up to 2% Cash back
0% Intro APR on balance transfers
No annual fee.
Pick something else if you want more cash back in specific categories.
High late payment fees
Cost
Purchase APR
15.49%-25.49% (V)
Foreign Transaction Fee
3%
The spending required to keep your small business or side hustle humming can also give you a boost toward your next trip — if you put those expenses on a credit card that offers travel rewards. Although entrepreneurs can use consumer travel cards for business expenses, a card specifically designed for business use can be more lucrative.
Whether you're looking to build credit from scratch or rebuild credit after a bad setback, a secured credit card can be an invaluable tool. Secured cards require you to provide a cash security deposit, usually equal to your credit line. The issuer holds the deposit in case you don't pay your bill; you get the deposit back when you upgrade to a regular "unsecured" card or close the account in good standing. Because the deposit protects the issuer from losing money, secured cards are easier for people with bad credit or no credit to qualify for.
Avoiding annual fees on a business credit card can help eliminate the cost of owning a credit card. You should consider using a fee-free card if you own a startup or new business, want to issue free employee credit cards, or don't need top-tier perks like airport lounge access.
Sometimes you may not know what your business expenses will be from month to month. If that's your situation, you may like a card with many different bonus categories, or categories that are flexible in some way.
The signup bonus — one of the most valuable and coveted credit card features, with the potential to put a huge dent in your spending or help you score free flights and hotel stays. Many rewards cards come with signup bonuses, also known as introductory bonuses or welcome bonuses. These bonus offers can provide a surprising amount of value, with returns on spending ranging from around 20% on average to more than 50% in some cases.
Related Credit Card/Article